I am SOOOO excited to team up with a bunch of other bloggers to provide 25 days of gifts for you!
Each day, there will be a NEW post that takes you to a fellow blogger with great ideas for the holiday season: recipes, gift ideas, DIY, soul enrichment, stories and more!
Just look for this fun picture: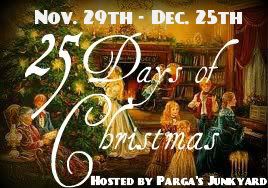 Enter to win a different prize each day,
from Nov. 29th through Dec.24th,
with the 25 Days of
Christmas Blogshare Giveaways! 
Each day we will be highlighting a post from one of our 28 blog partners.  
Look for the link daily that will take you to the blogshare post of the day. 
By clicking on the day link you will find the rafflecopter form to enter each of the
25 Days of Christmas Giveaways!
  Here is the Schedule:
Nov. 29th -Jewelry Valued at $92 Sonya Parga Parga's Junkyard
Nov. 30th -Daily Decadence The Art to Sensual Living Book Melissa Potvin Fishing For Savings
Dec. 1st -$25 Walmart gift card Missy Rogers Simply Raising 8
Dec. 2nd -$25 gc to toyrus Crystal Evans Frugal Washington Mommy
Dec. 3rd -" Bulgarian Rose Handcrafted Soy Candle, " carla bushey coupon nurse
Dec. 4rd- Slinky 50th Anniversary Rose Gold Slinky, "Our America" Game Barbara Stokes ClipperGirl's Saving Spot
Dec. 5th -GalloLea Pizza Kits Jackie Griebel Miss Jackie's Views
Dec. 6th T-he Christmas Star Book Sandy Elliott Cherished Handmade Treasures
Dec. 7th -$25 ? GC (not verified yet) Cheryl Raymond Sweeping The USA
Dec. 8th -Childrens CD "Bubbleride" Karen Waide Tots and Me
Dec. 9th -Food Processor Cavla Johnson Register Cents
Dec. 10th -1 Melter pot and choice of 2 melter Gems and one candle of choice Marie DeWolfe Dixieland Mom Product Reviews
Dec. 11th -Scented Adventures of The Bouquet Sisters in Fairyland Book Bing Yuan icefairy's Treasure Chest
Dec. 12th -BIBLICAL BEAUTY Book Rita Light Rockin Rebel Deals
Dec. 13th -Snow Globe Memories Book Stacey Mosteller Couponing with Boys
Dec. 14th -$20 KFC GC Christine M Mama Papa Barn
Dec. 15th -The Three Gifts Book Nathalie Brault Women-Prenuer Galore
Dec. 16th -My Twins First Birthday Book Danielle Randolph Dani Sue Dreams
Dec. 17th -fog-free shower mirror, handmade tote bag Denise McDonuts Mommy2 Nanny3 Doggy1
Dec. 18th- Smiley Cookies Phaedra Seabolt Identity Discovery
Dec. 19th -Nielsen-Massey Vanilla Flavorings and cookbook Rena Gardana An Ordinary Housewife
Dec. 20th -Beautiful Teardrop Necklace and Earring Gift Set $25 Tamara Mommyland
Dec. 21st- a handmade wreath, $20. Courtney Chase All Your Dreams
Dec. 22nd -Happy on Purpose Book by Diana Fletcher michelle Van Horn Stay at home Zone
Dec. 23rd -Gift card Laurie Floyd Steals and Deals for Kids
Dec. 24th -Santa Book Kristi Shellen Saving My Family Money
Dec. 25th -$25 Amazon Gift card Dannelle Gay Operation $40K
Yes, I wrap it up
🙂