I may have been compensated for this post. If an item is being reviewed, I am not obligated to give a positive review and always use my own words. This disclosure is in accordance with Federal Trade Commission's 16 CFR, Part 255: Guides Concerning the Use of Endorsements and Testimonials in Advertising. If you would like a review done contact Dannelle at op40k@aol.com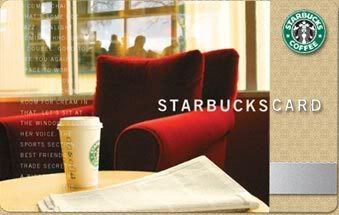 Holy Cow –
$10 Starbucks gift cards for just $5 !!
This a HOT deal and you can only get (1) one of them ….and it's for the US only (sorry).
It comes in a form of a voucher that you turn into Starbucks for the gift certificate
(can be done online at http://groupon.starbucks.com )
and it expires on 9/30 (but Groupon will refund ya if it's isn't all used).
Get it quick …. I got mine!
🙂
If you are in the Madison area — there are some GREAT massage deals right now too! I was tempted at the Belly Dancing classes……ha!