I may have been compensated for this post. If an item is being reviewed, I am not obligated to give a positive review and always use my own words. This disclosure is in accordance with Federal Trade Commission's 16 CFR, Part 255: Guides Concerning the Use of Endorsements and Testimonials in Advertising. If you would like a review done contact Dannelle at op40k@aol.com
Today means there are 68 days until Christmas.
Now, don't panic!
To try and help you, we have put together a list of great stuff to help you count down to the big event.
There will be 31 different crafts that you still have time to make, for gifts, in October.

There will be 30 different cookie recipes, that you can gather ingredients to bake, off in November.

There will be 24 different things you can add to your family holiday traditions in December – to help keep the Christ in Christmas.
Let's get started with those crafts!

I found this gem on Pinterest…just one problem, the maker is on Etsy and sells the pattern. It doesn't look that complicated and looks like a great way to use scraps! The Altoids tin is lined with felt — cut with decorative scissors. The pillow and blanket are simple enough — that takes you down to the mouse and his lil teddy. Simple enough if you sew at all… if not, you may want to buy the pattern for $8.00 HERE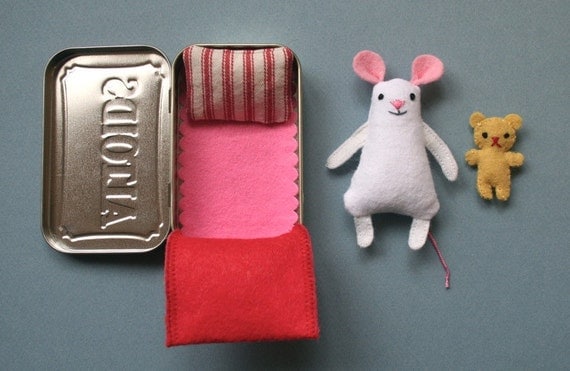 WHY the little mouse?
Miss Sarah's Grandma has been telling her stories about the Friendly Little Mouse for years… and usually, in a very quiet voice, as she lightly rubs the back of her neck. They are BOTH going to get one this year, at Christmas. It is just SUPER cute and a great memory that they share.

Now, I just have to find someone who eats Altoids so I can have the tins, LOL!

Happy Crafting!