I may have been compensated for this post. If an item is being reviewed, I am not obligated to give a positive review and always use my own words. This disclosure is in accordance with Federal Trade Commission's 16 CFR, Part 255: Guides Concerning the Use of Endorsements and Testimonials in Advertising. If you would like a review done contact Dannelle at op40k@aol.com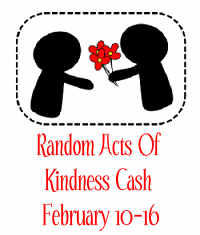 What Is The Random Acts Of Kindness Giveaway
The Random Acts Of Kindness Giveaway is a cash giveaway event open to any blogger or business interested. Random Acts of Kindness Day is February 17th, but entries the giveaway will be open for entries from 2/10-2/16. There will be one grand prize shared across all of the blogs that participate, to be announced on 2/17. The grand prize will be a Paypal cash prize! The amount of the prize will depend on the number of blogs participating. The event will focus on Twitter and Facebook pages.
How To Get Involved
Bloggers wishing to be involved will need a Facebook and/or Twitter page to promote as part of the event. There is a $3 participation fee which gets you one follow method (either Facebook or Twitter). $2 will go towards the prize with a $1 administration fee. You can purchase a second follow method (Facebook or Twitter) for $2 more.
Registration will be open until 11:59pm on January 31st, so I have time to code the event post and Rafflecopter form to send to participants by February 3rd.
To sign up for the event, please fill out the form below and send your payment via Paypal to tupqueen1at aol dot com com as a gift. Your participation will not be confirmed until your payment has been received. We will be using Rafflecopter for the event and I will provide you with the widget code and an example post you can use prior to the start of the event. In the form you will be able to specify the types of follows you would like to have included (Facebook, Twitter, or both). Bloggers will be listed on the Rafflecopter form in order of confirmed registration.
Sign Up Here and Grab the Button!
If you're ready to sign up, please review the requirements for participating bloggers:
Complete registration form.
Make payment in amount that matches your registration form ($3 or $5)
Make event post to go live at 12:01am EST on the Friday of the event.
It is not a requirement to keep the post sticky during the event, although it is suggested that you have the button or link in a prominent place to help promote the event.
If you can agree to these guidelines, please click to complete the Random Acts Of Kindness registration form and send your payment as a gift via PayPal to tupqueen1at aol dot com. Once your payment has been made, you will receive a confirmation email and your spot will be guaranteed.
You are welcome to grab the button at the top of this page and post it on your website to spread the word. Feel free to link back to this page.