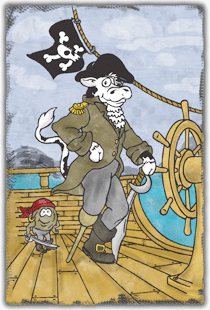 Thanks to Norma for reminding me!
It's the annual Cowchip event this weekend in the Sauk Prairie, from Friday evening thru Saturday. 
It's the 38th year!
The theme this year is Pirates of the Cowibbean. The events for Friday are a corporate throw at 6:30 and different bands. Saturday starts out with a Cow Chip Classic Run 6:30 a.m. registration, 8 a.m. – 5 & 10 k run; the arts & crafts fair from 9-5; parade at noon; events for kids; WI State Cow Chip Throw after parade (1:30); demonstrations; and more music; along with quite a variety of food stands, to include the pork chop on a stick.
See more here