I may have been compensated for this post. If an item is being reviewed, I am not obligated to give a positive review and always use my own words. This disclosure is in accordance with Federal Trade Commission's 16 CFR, Part 255: Guides Concerning the Use of Endorsements and Testimonials in Advertising. If you would like a review done contact Dannelle at op40k@aol.com
Cookie Exchange Parties are SO MUCH FUN – for a few simple reasons:You get together with your friends
You make only ONE kind of cookie and finish your holiday baking, after swapping out
You get new recipes
You often have snacks or games!
That being said, I do one every year – in December, about 2 weeks before Christmas. (You can read about it HERE or see a TV segment I did on it http://youtu.be/-iUR7GlAiQw).
I thought it would be fun to have a collection of 30 fun recipes to try – one a day in November – so you can be prepared for that holiday baking!
For the first few, they will be ones I have done – tried and true recipes that always seem to be a hit.
This is from a post in November of 2010 – it doesn't matter if I make them for the swap, I have to make them for the family, LOL! Watch for the Andes Candy to be on sale this month!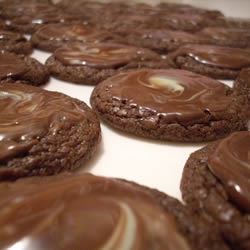 ANDES CANDIES COOKIES 3/4 c. butter
1 1/2 c. brown sugar
2 tbsp. water
12 oz. chocolate chips
2 (6 oz.) boxes Andes Creme de Menthe candies
2 eggs
2 1/2 c. flour
1 1/4 tsp. baking soda
1/4 tsp. salt
Combine butter, brown sugar, and water in a quart measuring cup suitable for the microwave. Microwave on High power 2 minutes. Stir, add chocolate chips, and stir again until chocolate chips are melted. Let stand 10 minutes. Meanwhile, unwrap and halve each candy; set aside.
Beat eggs in mixer bowl. Add cooled chocolate mixture. Sift together flour, soda, and salt; add to mixing bowl. Beat on low speed until ingredients are just blended. Chill dough 1 1/2 hours. Roll into balls and place on ungreased cookie sheets.
Bake at 350 degrees for 7-8 minutes or until cookies are done. Remove from oven and immediately place half a mint on each cookie. Let stand 2 minutes or until candy will spread. Spread chocolate over cookie. Remove cookie to a cooling rack. Makes 60-70 cookies.
**I triple this recipe so I have enough for the 144 cookies that makes the swap work for 12 people+