I may have been compensated for this post. If an item is being reviewed, I am not obligated to give a positive review and always use my own words. This disclosure is in accordance with Federal Trade Commission's 16 CFR, Part 255: Guides Concerning the Use of Endorsements and Testimonials in Advertising. If you would like a review done contact Dannelle at op40k@aol.com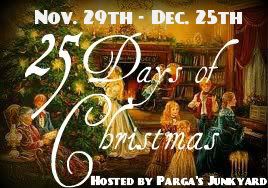 Blogshare Post of the Day – Dec. 2nd
Welcome to the 25 Days of Christmas Blogshare Giveaway post of the day! The idea for this blogshare is for you to enter to win a different prize each day, from Nov. 29th through Dec.24th! Each day we will be highlighting a post from one of our 28 blog partners (this one today!). Look for the link daily that will take you to the blogshare post of the day. By clicking on the day link you will find the rafflecopter form to enter each of the 25 Days of Christmas Giveaways! Now for today's Christmas-related post…
SendaFlyingCard.com, home of the Flying Card now offers customized holiday letters for children including a birthday letter and letter from Santa Claus.
Imagine the excitement on your child's face upon receiving a personalized letter from Santa! Santa can personalize details specific to your child including: your child's name, gender, age, hometown, and best friend or sibling's name! Add to those special memories of the Holiday season with an heirloom that will thrill today and offer warm, happy memories for years to come.
Learn more about SendAFlyingCard.com's personalized letters and enter today's giveaway at Identity Discovery.