I may have been compensated for this post. If an item is being reviewed, I am not obligated to give a positive review and always use my own words. This disclosure is in accordance with Federal Trade Commission's 16 CFR, Part 255: Guides Concerning the Use of Endorsements and Testimonials in Advertising. If you would like a review done contact Dannelle at op40k@aol.com
Today's featured post and giveaway is over at
An Ordinary Housewife
.
The featured giveaway is for a Nielson-Massey Vanilla Flavorings and cookbook and the featured post is about last minute Christmas gifts from things you probably already have on hand.
     After all, who wants to go out in the Christmas rush for some random item?
So she has compiled a list of gifts you can make that you probably already have materials for.
    
The bath salt pictured above is just one of the suggestions pffered!
To check out the whole post and enter today's fabulous giveaway, go here!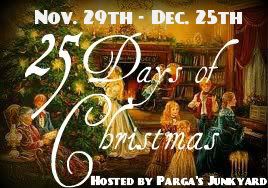 Enter to win a different prize each day, from Nov. 29th through Dec.24th,
with the 25 Days of Christmas Blogshare Giveaways!
Each day we will be highlighting a post from one of our 28 blog partners.
Look for the link daily that will take you to the blogshare post of the day.
By clicking on the day link you will find the rafflecopter form to enter
each of the 25 Days of Christmas Giveaways!