I may have been compensated for this post. If an item is being reviewed, I am not obligated to give a positive review and always use my own words. This disclosure is in accordance with Federal Trade Commission's 16 CFR, Part 255: Guides Concerning the Use of Endorsements and Testimonials in Advertising. If you would like a review done contact Dannelle at op40k@aol.com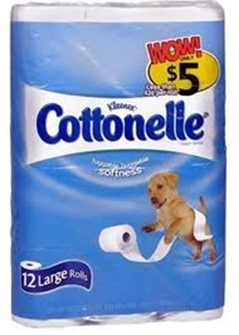 This is a deal that you have to JUMP on for that one day!
12 count rolls or Cottonelle for $2.50 or $.20 a roll
(STOCK UP PRICE!!!)
Let's start with the CATALINA
Buy Cottonelle 12-Pack

Toilet

Paper 6/1/13 – 6/28/13Buy 2, Get Back $2

Register

RewardBuy 3+, Get Back $3 Register Reward
So, Walgreen's has their Cottonelle Catalina deal again,
starting on 6/1 BUT their coupon booklet ends that day
and they have a $1.00/1 Store Coupon in it!
So, let's hit it on Saturday!
Shop early that day,
there will be no Rain Checks on the combined deal!
Deal Idea:
Get 2 Cottonelle 12 pk $5.00 (reg

price

) = $10.00– $1/1 Cottonelle

Bathroom

Tissue Walgreen's May Coupon Book 2013 (exp. 06/01) – takes off 2 times -(2) $0.50/1 Cottonelle Toilet Paper, 9-pack + 05/12 SS (exp 06/22)Final Price: $7 + tax Get Back: $2.00 Off Your Next Order (Catalina)
Its like getting a BOGO, or just $.20 per roll after money back on your next order!
You can also get this and DONATE it to one of the local Personal Essentials Pantries…
I'm just sayin'